As of Summer 2018, if you will be receiving Full-Time OSAP for the Summer or Fall/Winter sessions, you will be able to see an estimate for what you may need to pay U of T once your upcoming OSAP is applied against your tuition & fees (learn about eligibility for Full-Time OSAP).
This amount is called your "Net Cost", and it will help you plan ahead and estimate how much in awards funding you may need to seek, or how much you may need to pay out of pocket.
Accessing Your Net Cost
If you will be receiving Full-Time OSAP payments for the upcoming session, you can access your Net Cost page from the ACORN Dashboard.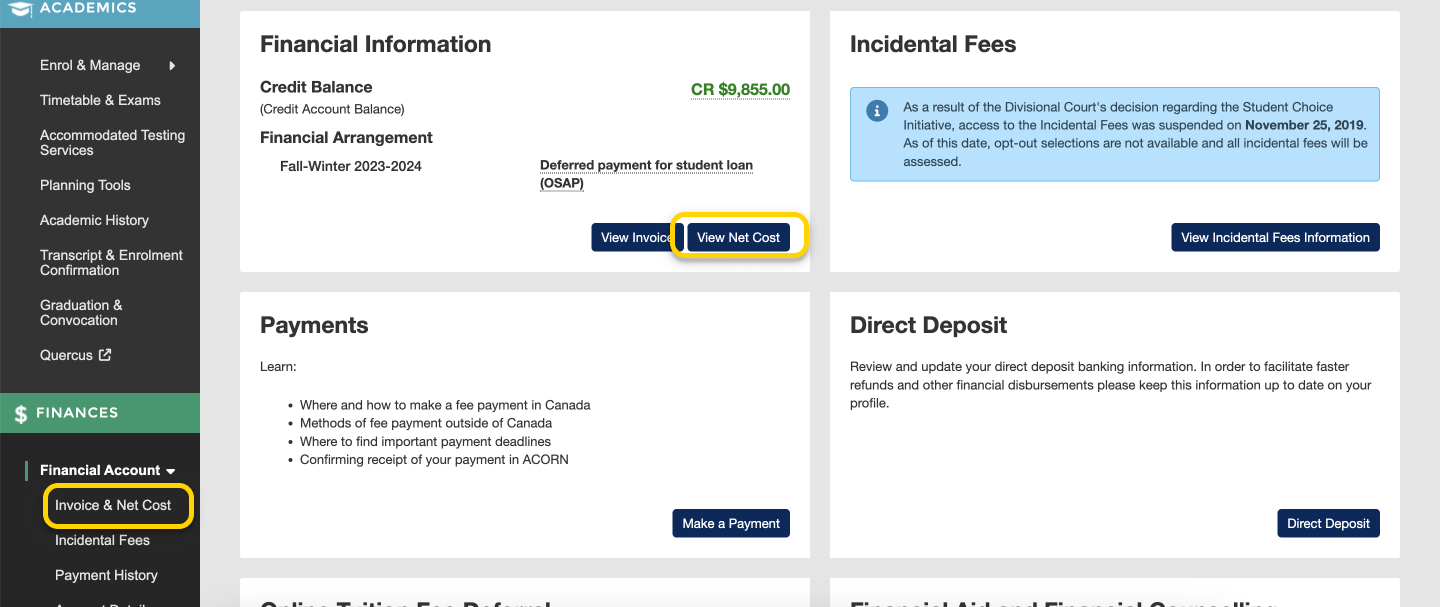 You can also go to Financial Account > Invoice & Net Cost via the main navigation, or click the "View Net Cost" button within the Financial Information card on your Financial Account page.
Understanding Your Net Cost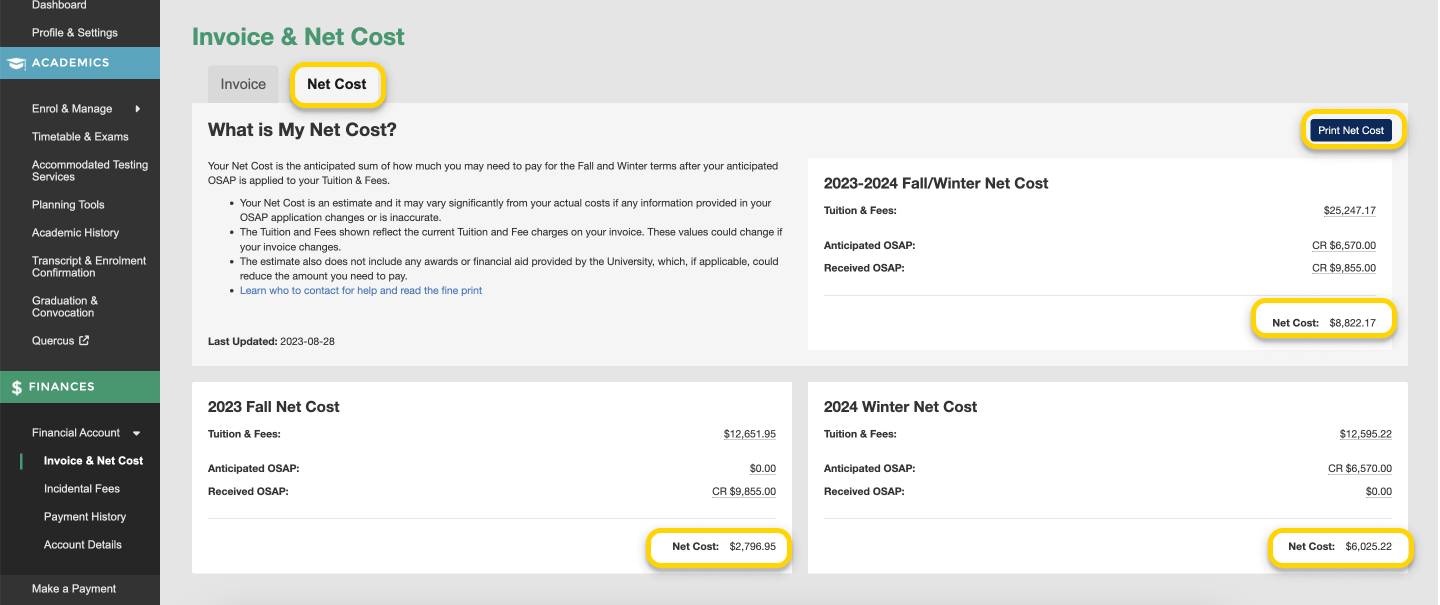 Your Invoice and Net Cost exist on the same page, and you can switch back and forth between them using the two tabs towards the top. Your Net Cost overview for the entire Fall-Winter session is displayed at the top of the page, and contains your tuition and fee charges, anticipated OSAP and received OSAP for the entire Fall-Winter session. Below, your Net Cost is broken down into the Fall and Winter terms individually, and you can find your tuition and fee breakdown and estimated and received OSAP for each term.
For specific definitions of each field, you can hover over an amount—or tap it on mobile—to see more information about it.
Why You May Not See Your Net Cost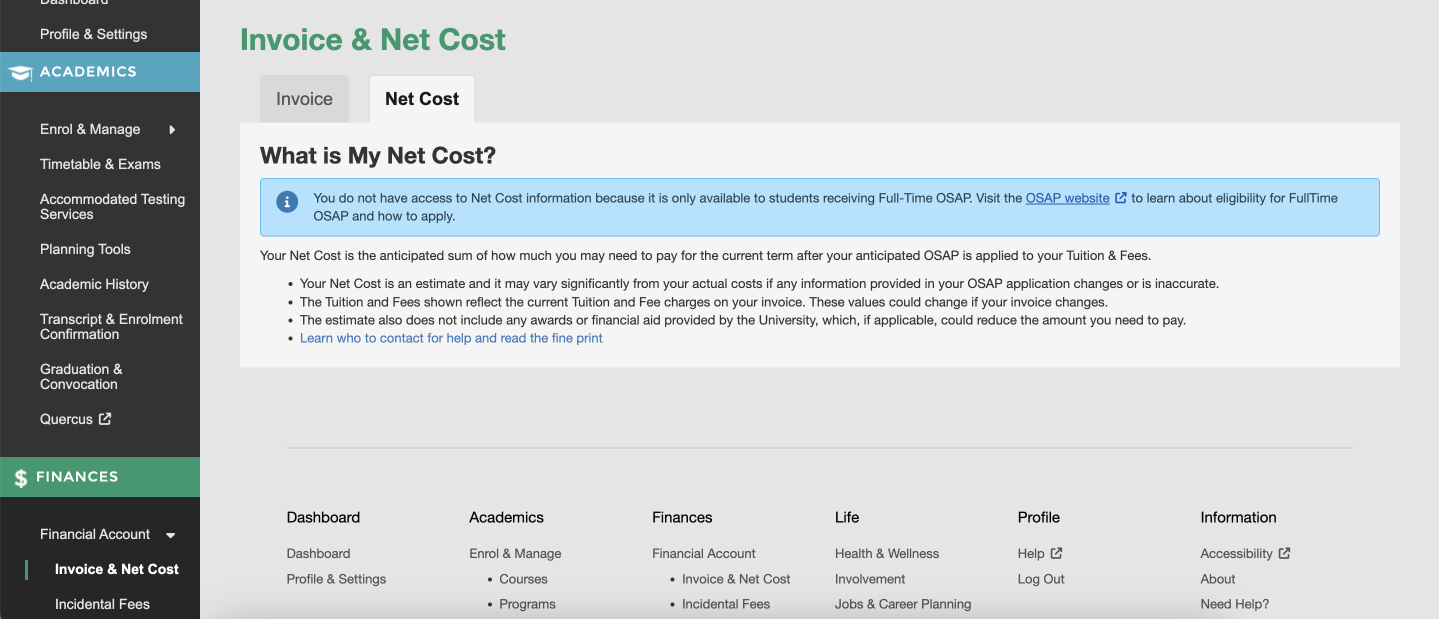 If you see a message like the ones above, it means you cannot see your Net Cost information due to one of the following reasons:
You are not eligible for Full-Time OSAP
You are receiving or are eligible only for Part-Time OSAP
You are not eligible for OSAP for the upcoming term
You applied for OSAP but your application has been closed
In these cases, unfortunately ACORN cannot display your Net Cost because it does not have an OSAP funding estimate.
Getting Help & More Information
Who to Contact for Help
Net Cost
Your actual Net Cost may vary if the information used to calculate your OSAP assessment is updated.
OSAP
Your Anticipated OSAP is the amount of assistance that OSAP will send directly to the University of Toronto to apply to your tuition and other fees, and is based on your most recent OSAP assessment. If you do not register in the program or course load you indicated on your OSAP application, your eligibility for this assistance may change.
If your Anticipated and Received OSAP amounts are less than your total OSAP funding, OSAP will deposit the difference directly to your bank account. Log in to your OSAP account for the current status of your grants and loans.
There are circumstances where grants provided through OSAP may be converted into OSAP student loans. OSAP grants reflected in your net cost do not include the Ontario Living and Learning Grant (for Crown Wards only).